Ultralight Packing List for Digital Nomads & Photographers: 1 Carry-On Bag, Indefinite Travel.
Updated May 2019 for warm weather! Check out what's new.
What's the easiest way to travel? With one carry-on sized backpack. It sounds crazy, but every digital nomad packing list I see tends to converge to this utopia, and it's not surprising why.
No checked bags means:
No wait to check bags or surprise fees
No lost baggage
You can use budget airlines
Traveling with one carry-on bag means:
Much less stress during transit and fewer missed layovers
No repacking between hotels and fewer misplaced items
Less stress if your rental car gets smashed
In a word, traveling light with one carry-on sized bag is freedom.
As a digital nomad, honing your one bag packing list will help turn your dream of traveling around the world indefinitely into reality, and now is the time for you to practice.
I didn't instantly cut down my existence to one bag: I've spent years learning what I can and can't get away with. To expedite your journey, here's my entire minimalist packing list for a <10kg pack. It's long, so here's a table if you want to skip around.
Recent Updates
9/9/2019: Stay tuned for some nomad-friendly vlogging gear! I wasn't happy with my action cam overseas, so a new ultralight rig is in the works.
4/29/2019: A.K.A "The warm weather update!" I finally found do-everything shorts that blow my mind, a tiny laptop charger that replaces three, no show merino wool socks, a slim wallet, and deodorant that isn't a pain to wash out of merino wool shirts.
1/13/2019: I've finished testing travel pants! Also, new ball head recommendation.
10/25/2018: I've included some recommendations to get your pack under 10kg (Norwegian's carry-on weight limit). Also, I've added details on in-progress testing on travel pants!
2019 Ultralight Packing List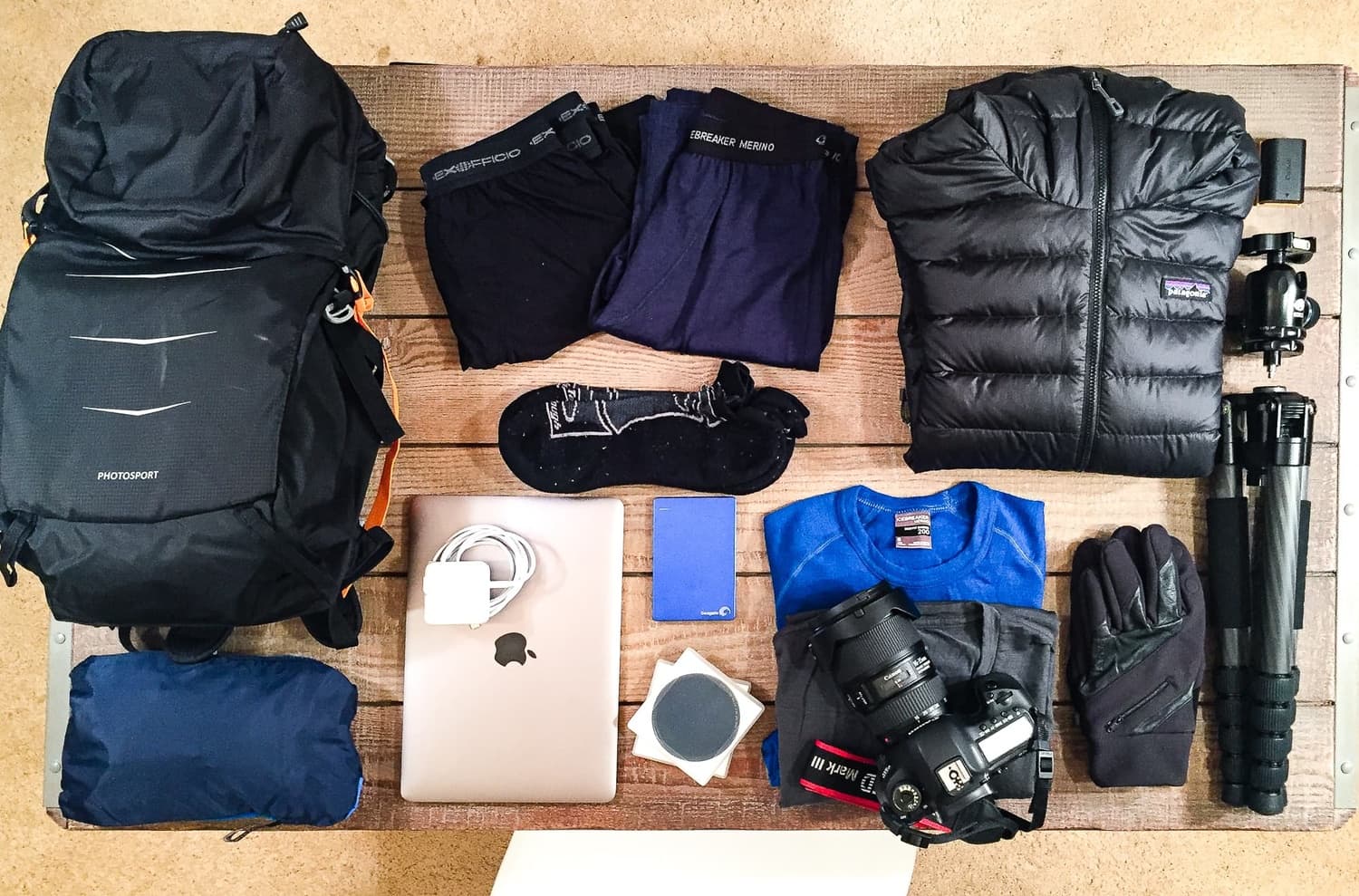 Bags
Lies. Actually, I… don't… have… recommendations yet! I've traveled for a year with a Lowepro hiking bag — it works, but I've not been overly happy with it. So until I find the perfect bag, I'll hold off on a recommendation.
However, if you aren't traveling with camera gear, go with a daypack instead of a full-blown backpack. I love my 17 liter North Face daypack (discontinued, here's a larger one if you're less lucky at T.J.Maxx), but there's not anything particularly special about it other than the size. Thanks to a strict packing regime, it holds everything I need for indefinite travel… without camera gear.
Also, don't forget to pack a foldable nylon daypack. Bag inception. It takes almost no space, and after your flight you can shove clothes and toiletries in it so your main bag sheds some weight.
Clothes
I've spent a few years honing my ultralight wardrobe, and a few characteristics apply to everything. First, eliminate any clothing that is 100% cotton. This is a non-negotiable: you won't exactly wash your clothes everyday, and cotton will be unpleasant during use, smell awful after use, and turn to rock once you get around to washing it. Why pack 10 cotton tees that fit so-so and are miserable in hot weather, instead of owning 3 shirts that look great and are made of materials that perform well in inclement weather?
Your wardrobe should be primarily made of nature's miracle fabric, merino wool. It resists odors, keeps you cool in the heat and warm in the cold, and air dries without turning to rock. Even when I'm not traveling, merino wool is pretty much the only fabric I own. Yes, it's pricey — but you only need 2–3 of most items, and you won't purchase them often. It's a small price to pay for legendary comfort and not smelling like a vagabond.
I follow the three-layer system: a merino wool base layer, a down jacket for the mid layer and a rain jacket for the outer layer. Whether I'm headed for 80 degrees or 20 degrees, I'm covered!
Here's the entire clothing list:
Shirts
3 Icebreaker merino wool shirts for the base layer: a short sleeve and long sleeve will cover a wide range of temperatures. Merino wool comes in a lot of grades and weights, so it's not a place to skimp. Short sleeves are generally thin and come in a weight of 150 g/m2 (grams per square meter), while long sleeves are a thicker 200 g/m2. I travel with 3 variations:
A dressy black Icebreaker Anatomica V-neck, with a fabric weight of 150 g/m2. It's well fitted, so it looks great solo or layered under anything. Lately these are getting hard to find at less than retail price, so you might have to do some googling if you can't find a color and size you like. If V-necks aren't your thing, I own a crew version as well that served me well.
A thicker Icebreaker Oasis Crewe, which comes in 200 g/m2. It seems discontinued, but there's a newer lookalike with the same specs, Icebreaker Everyday Crewe. The crew is slightly less fitted than the Anatomica lineup, but look greats and has seen the most use — even in warmer climates.
A long sleeve Icebreaker Everyday Long Sleeve Tee in 200 g/m2. I use it in two extremes: when it's below 30 degrees outside, or when it's hot and sunny. It sounds counterintuitive, but the long sleeves keep the heat off you while wicking away sweat, so it's often more comfortable than a short sleeve and wearing sunscreen.
Down Jacket
Patagonia down jacket. You can't beat a down jacket for weight to warmth ratio, but like merino wool, a down jacket isn't just for the frozen fjords: it acts as an insulator in moderate temperatures. I frequently wear a merino base layer and down jacket in 50 degree weather and don't notice the warmth.
Down jackets don't have to break the bank: before upgrading to my Patagonia down jacket, I used a $50 REI Coop jacket that still does a great job. In fact, it fits more easily in my camera bag.
Rain Jacket
Outdoor Research Helium HD rain jacket. The outer layer doesn't see constant use like the base and mid layers, but it's indispensable for any traveler. A DWR-treated down jacket is not enough: the third layer is meant to provide real wind and water protection. You should always have a rain jacket handy, so I opted for the best ultralight option I could find. Fair disclosure: because I use rain jackets infrequently, I haven't put my HD under too much stress, but so far it's been a huge upgrade from my clammy North Face Venture jacket.
If you are willing to forego a few features, go for "the" ultralight champion: the Outdoor Research Helium II rain jacket. This is the #1 recommendation in ultralight jackets, and it's cheaper than the HD! I went with the HD for one reason: I need pockets. Otherwise, the Helium II would have been my clear choice.
Socks
2–3 pairs of Darn Tough merino wool socks. There's nothing worse than rotten smelling socks after a day of hiking. These socks are worth every dollar — they keep the feet comfortable in all climates, have lots of cushion, resist odor, and are pretty easy to hand-wash. I've worn the same 2 pairs every day for 3 years.
I have 2 pairs of Darn Tough's 1/4 style, which are my favorite to wear, and for shorts weather I have 2 pairs of Darn Tough No Shows. Supposedly Darn Tough will replace the sock if it gets a hole, but I haven't yet needed to take advantage of that.
Update: I love Darn Tough's 1/4 style socks, but haven't been 100% sold on their no shows, which actually show. After a month of non-stop wear, I can highly recommend FITS Light Runner No Show merino wool socks.
Leggings
1 pair of Icebreaker Oasis merino wool leggings to go under your jeans in sub 30 degree weather. With some luck, sometimes you can snag a pair out of season for $20 at a T.J.Maxx.
Jeans
1 pair of Outlier Slim Dungarees. I've done a lot of research searching for the perfect pants, and though the Dungarees are my overall recommendation, here are 4 excellent options to accomodate any budget:
Best looking, priciest option: Outlier Slim Dungarees. Great for colder climates, I'm pretty sure these will last longer than anything else I wear. The fit has been tricky: I've exchanged sizes twice, as despite being slim, the waist measurement is different from most of the pants I've purchased. The legs are intentionally long, so plan to get them hemmed. Oh, these have a liquid-repellant treatment — good thing, I spilled some coffee on them the other day.
Feel great, mid-price option: Bluffworks Tailored Chinos. I have to say, I love these: they were a bit resistant to squats at first, but with a little working in these feel amazing and had the best fit of any pants I've ever worn, period. Super lightweight. I'm inclined to grab these for warmer (40℉+) climates: they breathe well, and I didn't sweat once while city exploring. However, in chillier climates these feel a bit too thin — definitely pair with merino wool leggings.
Stretchy budget option: prAna Brion pants. These DWR-treated pants feel amazing for hiking. Unlike the Outlier and Bluffworks, these have some vertical stretch that's especially useful for intense hikes, or squatting for a shot. These look great: I wouldn't have qualms about wearing them to a training engagement. Waist fit is great, but legs are a little long. Don't expect these to last long: after some in-depth searching, it sounds like they aren't especially known for durability.
Any jeans with > 20% polyester. Polyester mix jeans are incredibly durable, insanely light, comfortable and surprisingly stylish even on business trips. They hold their shape well and dry out quickly. Keep an eye on your local department stores and you may find a pair of $20 with patience. Whatever you do, don't travel with cotton jeans — your everything thanks you.
Shorts
1 pair of Outlier New Way Longs. I can't tell you how many years I've searched for good shorts. Amazing travel shorts have to be nothing short of miraculous to meet all these constraints:
Look nice enough you'd wear them to work.
Fit on the slim side without restraining motion.
Ultralight, wrinkle-free material.
Stretch for hiking and cycling.
No frills or cargo pockets that scream "tourist!"
Fast drying technical fabric that resists the ocassional splash.
Don't look or feel like gym shorts.
Well, the same folks who make my favorite travel pants have released shorts that are quietly rocking my world. The Outlier New Way Longs have a fantastic fit that looks great in the office and on the trail.
The super lightweight, thin technical fabric feels surprisingly durable, so it's hard to go wrong. I wear these every day in town, on the trail, and for an hour bike commute every day. These are the real deal. That sounds like a sales pitch, but seriously I've gone years without shorts. Oh, these also have drawstrings so you can take them for a swim!
As with Outlier's pants, the sizes run a size or two large — or perhaps I'm just losing weight from all the walking and cycling!
Underwear
3 pairs of ExOfficio Boxer Briefs. Yep, time for fancy underwear. Anything that isn't 100% cotton will do, but polyester is the way to go since you have to sink wash them every (other?) day anyway. My pairs pilled a bit when I first got them, but haven't gotten any worse after 2 years of constant use.
A word of warning: lately ExOfficio seems to be having quality assurance issues. My brother just got the ExOfficio Sport Boxer Briefs and it started sticking to itself and pilling like crazy after one sink-wash — disappointing to say the least. The original ExOfficio Boxer Briefs aren't as comfortable for hiking, so the Sport was on my upgrade list, but I think I'll wait till quality control gets their act together.
Shoes
1 pair of waterproof Merrell Gore-Tex hiking shoes. I'm not sold on the look, but hiking shoes are definitely my go-to travel shoes for city trekking and hiking in the Lake District fells.
Wallet
Infinity Minimalist Wallet. I only carry 4 cards, and for security I keep my wallet in my front pocket. This teeny tiny wallet keeps my slim travel pants slim, but has an expanding slot for the ocassional krona.
Tech
Smartphone
Any smartphone except an iPhone Plus or Samsung Galaxy. A giant phone screen will be your enemy as a nomad: many of the travel jeans don't have a large enough pocket, and given the amount of walking and hiking you'll be doing, a large screen will either get bent or smashed.
Laptop
12" MacBook or 13" MacBook Pro. Lugging around a 15" brick is out of the question. I've switched between the 13" and 12" over the last few years, and I'm torn: the 12" is the last word on portability and plenty powerful for everything except editing photos. If I can find a backpack I like and cut down the weight of my camera gear, I'll probably go back to the 13-incher. C'mon Apple, work your magic!
Laptop Charger
Innergie 60C USB-C Charger. The bulkiest, heaviest part of my pack has always been my MacBook charger. Over the past year, I've spent days researching chargers and tried a few during 4 months on the road. After the horror of having three chargers fail on me overseas, I finally found one that gives me faith in electronics again.
This is one of the smallest, lightest 60 watt chargers our there, and is a true replacement for Apple's 61 watt chargers. Because it's USB-C, it has also replaced my USB wall chargers for my iPhone, headlamp, and action camera. Pro-tip: grab the teeny tiny nonda USB-C to USB 3.0 adapter to charge any USB device.
Yes, this is an expensive charger — probably the most I've ever paid for a charger, period. But if I've learned anything after 4 months overseas, it's that nothing will cripple you faster or give you more anxiety than a flakey laptop charger. I lost days of shoot time and spent hundreds of dollars replacing chargers with whatever I could find in an electronics store, and in Iceland or the Lake District, your options aren't overwhelming.
Headlamp
Hiking headlamp like the Black Diamond Spot. I prefer a USB rechargeable one so I don't need to carry backup batteries (more weight and space), but haven't yet tested out the Black Diamond ReVolt.
Adapters
Amazon Basics USB-C adapter. Yeah, you can pay 50% more for Apple's, but from the reviews it seems notoriously glitchy. On the off-chance my Amazon Basics version goes bad, I also tote the teeny tiny nonda USB-C to USB 3.0 adapter.
Plug Adapters
2 OREI plug adapters for mainland Europe and the UK. Keep in mind that these plugs do not convert the voltage, so check all your electronics to make sure they can operate on the country's power grid. Most smartphones, laptops and camera gear work with 240V out of the box, but always double check lest you fry your gear and hotel room.
As I expand my list of countries I may consider a universal plug adapter, but the dedicated plugs are so cheap, light, compact and expendable that I don't see any reason to purchase a bulky universal adapter.
Earbuds
OEM Apple earbuds. Hard to lose, cheap to replace, but useless on flights. Bulky headphones are out of the question, but I'm eyeing these noise-blocking earbuds: Bose QuietComfort 20i. I'm not ready to drop a few hundred bucks on earbuds, but if I decide to care about audio and noise cancellation, these will be first on my wishlist.
Backup Drive
Seagate 2TB Slim External Hard Drive. I back up my photos daily for a total of three copies: originals on my CompactFlash cards, imported DNGs on my laptop, and DNG copies on my the backup drive.
In case my backpack is stolen, I keep backup devices in at least two locations. In transit, I keep CF cards in my pocket and the backup drive in my backpack. Since rear-end collisions are common, I recommend storing your gear in the rear passenger seat instead of the trunk.
Car Charger
Anker Dual USB car charger. As a digital nomad, it seems impossible to live without a smartphone — maps, bookings, offline translations — so a dead phone triggers my panic button. Never cheap out on chargers: a poor converter will damage your pricey equipment.
Update: I'm testing out a (much) smaller dual charger with great reviews: RAVPower 24W 4.8A Dual USB Car Adapter. Wirecutter tested the previous generation, but the latest is even tinier. I'm trying it myself!
Photography Gear
Camera Body
Canon 5D Mark III. Someday I'll probably switch to a mirrorless like the Sony a7 III, but till then I'll be shooting on my faithful 5D.
Camera Lens
Canon 16–35mm f/4 L lens with hood. I used the 24–105mm for the last 5 years, but it will stay at home now since I only travel with one lens.
Memory Cards
Lexar 1066x CompactFlash cards. Your memory cards need to be rock-solid reliable after thousands of miles traveled and dollars spent. And with Magic Lantern, these cards are fast enough to shoot gorgeous RAW footage. Still, I'm looking forward to a mirrorless camera so I can just use cheaper SD cards.
Card Reader
Lexar CompactFlash card reader. Cheap readers can corrupt CF cards, so it's worth spending a few extra dollars for a reputable one.
Camera Battery
1 extra battery. The 5D's impressive battery life usually lasts a couple days, but more than once I've forgotten to charge it.
CPL Filter
B+W CPL filter. I have the previous generation, but B+W recently released an upgraded polarizer that cuts out less light and is cheaper.
ND Filter
B+W 6-stop ND filter. I own a 10-stop filter as well, but since it's rarely called for I have stopped packing it altogether.
Tripod
Sirui T-2205X Carbon Fiber Tripod. Easily fits in my carry-on backpack. I've been through three tripods, and this one strikes the perfect balance between stability and ultralight portability. And the twist locks are fantastic!
Ball Head
Really Right Stuff BH-30 Ball Head. This is my favorite gear upgrade of the last year: it's an Arca-style, rock solid, lightweight ball head that is a delight to use and trivial to pack. Many photographers prefer the clamp version, but I love the knob version: it's easy to twist even with gloves on, it shaves another ounce off the weight and is unbelievably compact.
Camera Straps
Peak Design Leash camera straps. After hating on some cheap shoulder straps, I'm in love with Peak Design's straps. The ultralight Leash straps strike the perfect balance for comfort, style, and nomad friendliness.
Microfiber Cloths
Two microfiber cloths. Just steal them from an Apple fanboy.
Gloves
Vallerret fingerless merino wool gloves. Fingers are the first thing to freeze in landscape photography, so I consider these part of my photography kit.
Toiletries
The trick to ultralight packing isn't to make everything smaller, but to figure out what you don't need to bring in the first place! So nowadays I travel with almost no toiletries — I only carry what I couldn't live without. Maybe it sounds anti-climatic, but disposable goods are the easiest to pick up and the most irritating to transport.
No special brands here, it's all disposable anyway. At all costs, avoid lots of little plastic bottles — if it can go in a plastic bag, do it:
1 regular (full size) deodorant. Don't bother with a travel-size deodorant. Go with an antiperspirant if you can: it's lighter and will last for a few days. Look for one that specifically advertises it won't leave stains — it will eventually, but the buildup will take a week instead of hours and save your merino wool shirts from unnecessary washes.
1 regular toothbrush. Nope, it's not even the cute fold-up one from Walmart's travel section.
2 itty bitty toothpaste tubes. Why can't they make a toothpaste tube that's 3 oz?
TSA-friendly sick kit: some plastic bags with ibuprofen, loratadine and occasionally a homemade rice bag cover a host of minor ailments.
I do have one trick for the guys who want to maintain their hairstyle. Opt for a really thick hair wax or cement instead of gel, and the TSA won't count it against your quota of liquids. For the last couple years, Layrite Cement Hair Clay has been my favorite. Not only does it take precious little wax to style, but you can scoop a palmful into a few makeup jars and be set for months at a time.
Whew, that's everything!
Hopefully you learned a few tricks for your own ultralight packing list. Obviously this packing list is tailored specifically to my needs as a male digital nomad and landscape photographer.
With all this geekery comes an exhortation: never let unknowns — least of all, ideal packing — stop you from traveling. Don't wait until you have the "perfect" packing setup before seeing the world, because you will never reach perfection. However, you will approach perfection much faster through practice and journaling what worked well and what didn't.
So pack your bag and go see the world!
Subscribe to Yellowscale
Sign up for minimalist travel tips and off-the-beaten-path locations.