Photo Journal: Mount Hood
After a fantastic morning at Lost Lake, I expected to take the rest of the day easy and focus on more accessible locations. Trillium Lake was on my bucket list, and according to Google Maps would only be a half mile off the main road.
I made a quick stop by a ranger station just outside Hood River to pick up a "sno park" permit, then made the haul out to Government Camp. The highway was a bit dicey in places, but fabulously inspirational as it wove through the Mount Hood National Forest.
When I pulled into the Trillium Sno Park, I didn't take much notice of all the folks with snow shoes and skiing equipment. Word on the street was that the snow had a nice coating of ice on top and would be easy to walk without snow shoes.
"And the lake is close, it's just about a quarter of a mile walk," a fellow hiker cheerfully reassured as he pulled his ski equipment out of a 4WD SUV.
Close to the trailhead, the snow was indeed easy enough to walk on. But after two miles of laboring into steadily soggier snow (mostly downhill), I still hadn't reached the lake.
At this point, the snow behaved eerily like quicksand. Every step was succeeded by a fall of three feet; more than once I lost my footing altogether and had trouble lifting myself out of waist deep snow.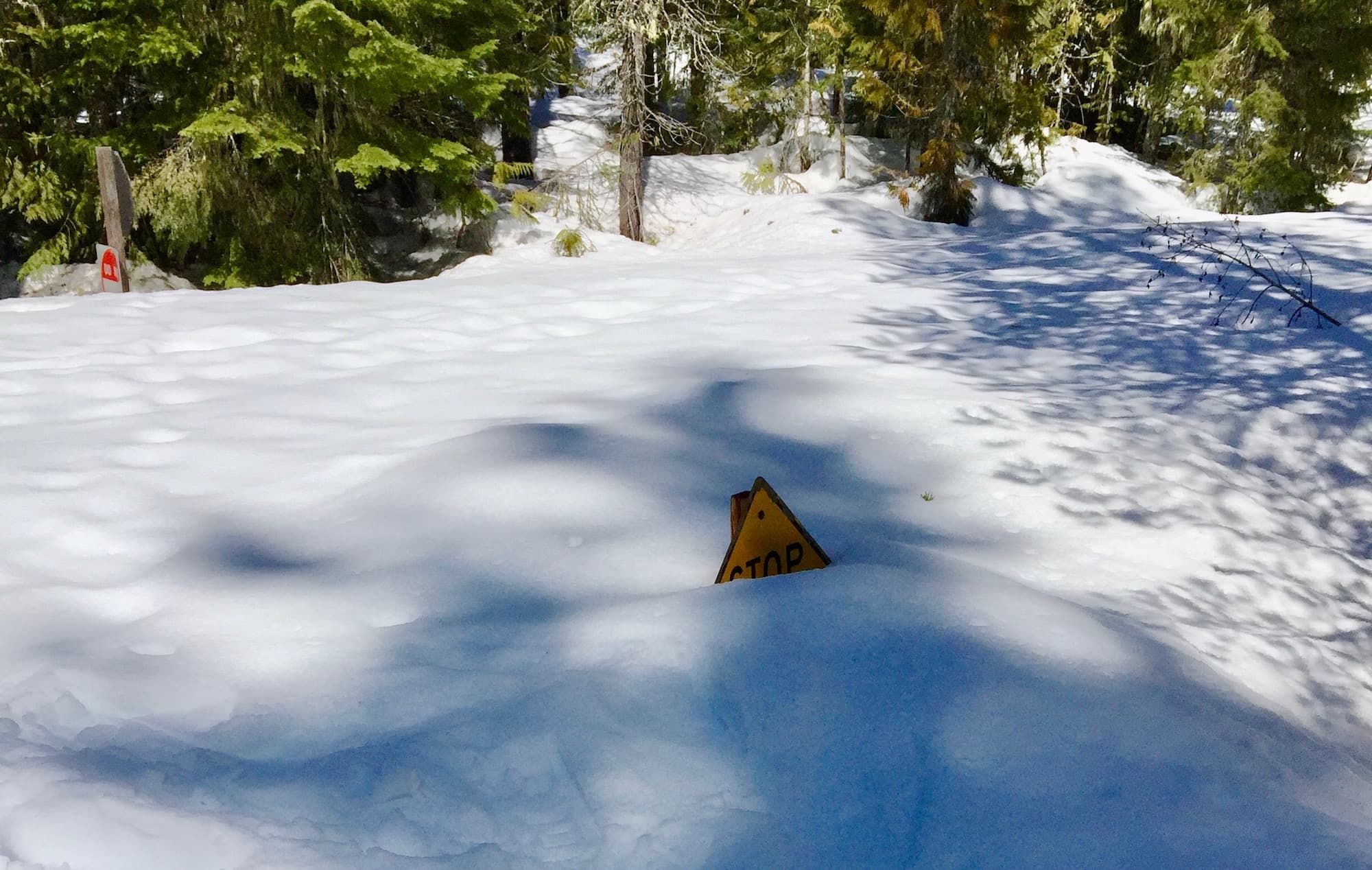 After a few trials and backtracking, I found a path to the lake. Sadly, it was a disappointing view—to get a proper view of Mount Hood in the background, I would need to hike a couple more miles around the frozen lake.

Naive southerner that I was, I wimped out.
Three miles later of drowning in uphill snow, I made it back to the car with zero photos to show for my efforts. My only takeaways were a few iPhone panos and a newfound phobia of snow. I spent the rest of the afternoon in a coffeeshop perusing my photographic spoils.
On the way back to my B&B in Hood River, I passed a small airfield with a fantastically clear view of Mount Hood. With it's snow-capped peak, "The Mountain" is easily one of the most photogenic mountains in the USA, and commands the horizon from 50 miles away.

Till then I had struggled to find an unobscured view of Mount Hood, and ironically one of the clearest was just down the street from my stay. My B&B host wrapped up an eventful day with an invitation to join some guests for dinner and games.
I checked in with my folks to boast of my conquests: seven feet of snow, closed roads and seafood. "You would've been proud of me, today I had smoked grilled salmon."
Subscribe to Yellowscale
Sign up for minimalist travel tips and off-the-beaten-path locations.