Photo Journal: South Stack Lighthouse in Wales
One of my all-time favorite shots came from the lighthouse on Holyhead in north Wales.
The prior night, we drove the long haul from Devonshire to the hills of north Wales and Snowdonia National Park—a fairly intense in the dark.
I had the car to myself the following day (yay!), so I drove at random through the park. Snowdonia's eerily Alpine roads echo the mood of Yosemite and the Scottish Highlands. But like Ireland, conditions and lighting change rapidly.
I couldn't imagine a better place to build my castle in the air. I can't help but feel Snowdonia is an underrated photographer's haven—and I wouldn't mind it staying that way!
About midday I drove to the idyllic South Stack Lighthouse on Holy Island. Despite the time of day, it was a fairly successful first visit and I figured I'd "gotten the shot," so I drove back to Caernarfon for some coffee to weather the rain.
(Yes, technically this latte was in Sheffield—I decided not to snap an insta and look like a dork in every coffeeshop.)
Of course, the second visit is always better, so after passing the afternoon in a coffeeshop, I ended up at the lighthouse a second time—this time about an hour shy of sunset.
My earlier visit was smallcakes in comparison. Just as golden hour approached, I watched a thick fog roll in. I nearly abandoned the shoot altogether—it was thick enough to completely obscure the sunset and lighthouse. But still, it was mesmerizing to watch the blanket of fog roll in and out with almost magical rapidity.
The mood was there, even if the lighthouse wasn't.
The scene suddenly cleared, and while the lighthouse became visible, a remainder of thick fog clung to the rocks in the foreground. Thankfully my shot was already composed, so I started the 60-second exposure.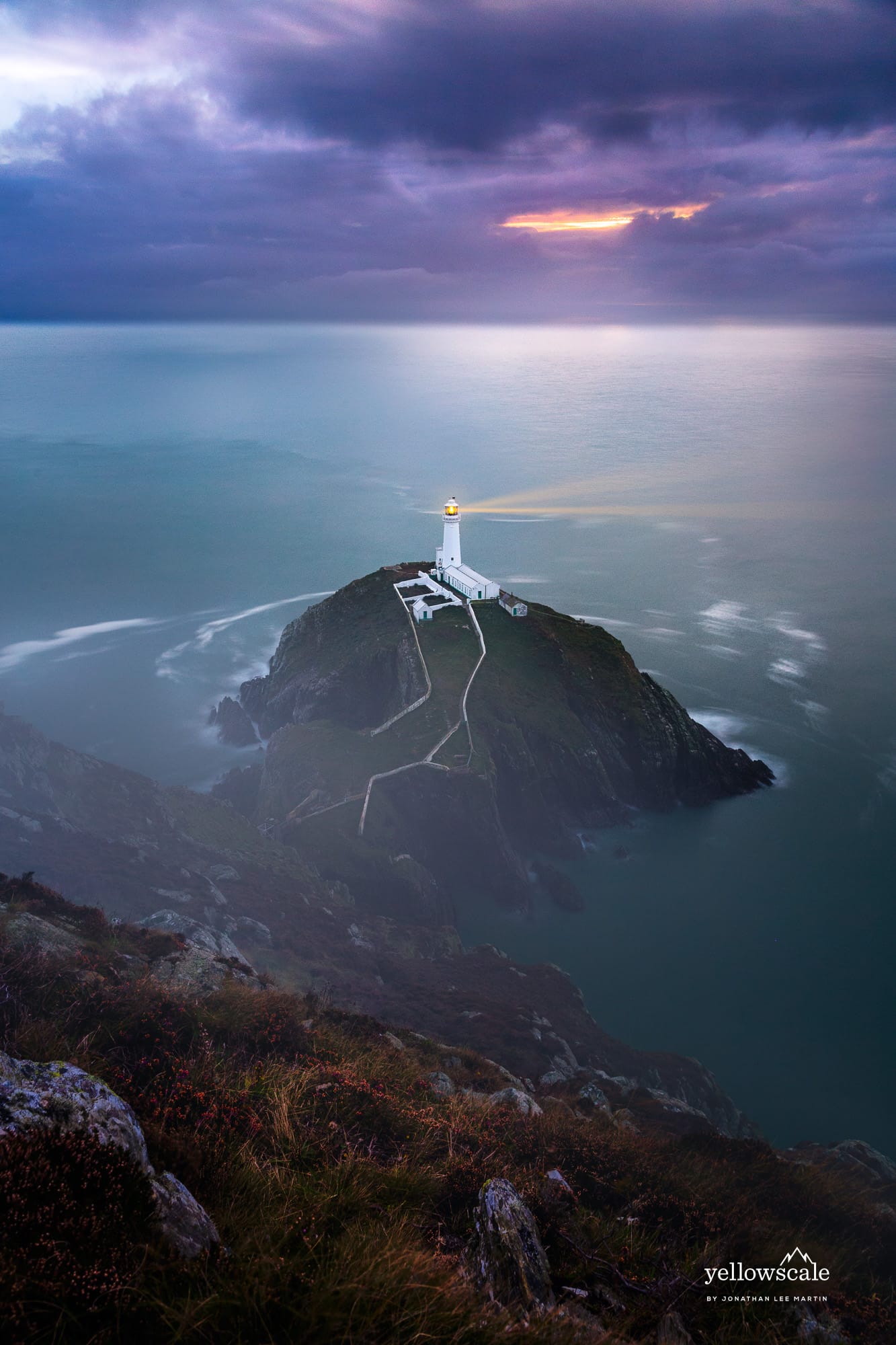 By the second shot, the lighthouse was completely invisible again.
This was probably the best unexpected shoot of the trip—I figured the thick fog would ruin the shot, so I certainly didn't expect to get a better photo than what I already had!
It was wild to observe such rapid changes in the weather, and I couldn't help feeling that a leprechaun had followed me from Ireland to resettle in north Wales.
Wise leprechaun.
Subscribe to Yellowscale
Sign up for minimalist travel tips and off-the-beaten-path locations.